10 MustHaves For A Lovingly LivedIn Look
Decorative elements such as collectibles, throw pillows and rugs will help create a home that's undeniably yours

Moving into a home that's new or just new to you and making it feel like your own can be daunting. But it doesn't have to take years for a home to look and feel lived-in and loved. Filling your rooms with favorite objects that have meaning to you will make your house feel like home.

Forst Construction, Inc. 1. Found objects. Show off your favorite finds — souvenir rocks from places you've visited, branches from the woods nearby or a bowl full of seaglass. You can incorporate them onto shelves, tabletops and mantels.
Izen Architecture Inc. Save Photo
2. Paperback books. We've seen many homes with shelves full of carefully arranged coffee-table-caliber books, but let's get real — often the bindings on those suckers aren't even cracked. And don't get me started on books that are turned around backward or bought in bulk to fill shelves. I love a home that has shelves full of pulp volumes I can grab. If you're like me, you'll enjoy that dog-eared Sue Grafton formulaic mystery much more than that gilded special edition of Proust. Put them out and be proud.
Frederick + Frederick Architects 3. Well-placed lamps for reading. I confess: I hate overhead lighting. To me a nice glow from a table lamp, floor lamp or reading sconce is best for lighting the pages. This room makes me want to grab a stack of beautiful art books, nestle into those pillows, put my feet up on the ottoman, turn on that table lamp and stay a long time.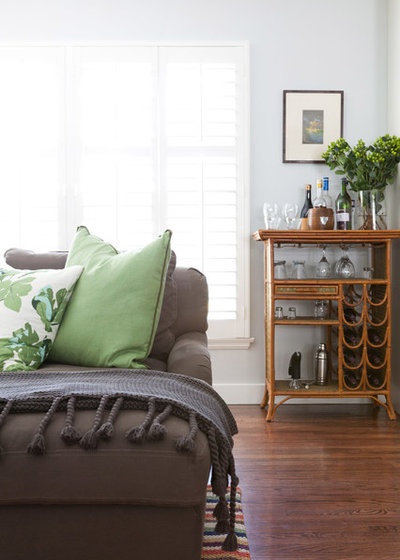 Meredith Ellis Design 4. A well-outfitted bar or bar cart. Back in the day, cocktail hour was a daily event, and a ready-to-go bar cart complete with booze, mixers and glassware was a household staple. Though attending barre class has replaced bellying up to the bar cart right after work, it's a great lived-in look.
Andrew Feldon 5. A fearless mix of throw pillows. Don't be paralyzed by thinking you need to get matchy-matchy. Needlepoint, velvet, ikat, sequins, kilim, a portrait of a bulldog, the Union Jack — there really aren't any hard and fast rules when it comes to the pillow mix. The more I add, the harder it is to clear a place to sit, but I still love the combinations of colors, patterns and textiles. There's no particular arrangement required, but I do have one rule: No karate chopping of the throw pillows allowed.
Meredith Ellis Design 6. An eclectic gallery of art. Art is one of the best ways to put your stamp on your home. The best thing about gallery walls is that you can combine a variety of your favorite images — kids' art, work you've picked up at local art fairs and on your travels, museum exhibition posters, family photos, vintage maps and postcards — heck, even paint-by-numbers look great in a mix.
Michelle Pheasant Design, Inc. 7. Stuff on the coffee table. Favorite objects, a stack of cool coasters, books and magazines, a magnifying glass for when you want to check the stocks in the paper, a vintage box to conceal all those pesky remotes — all the things you need when you're relaxing on the sofa should be close at hand. Throw in one of those found objects or two when you're playing around with the arrangement and keep it casual.
Cabin John Builders 8. A roaring fire, complete with a stack of wood nearby. A fireplace that has no kindling, tall box of matches and stack of wood nearby can look naked. Throw a few logs into an old metal bucket or a firkin on the hearth to complete the look.
Leonard Temes Design 9. Layered rugs. Sometimes when we move into a new place, we save the rugs for last, putting off finding the right one in the right size for so long that we forget we need them. Prioritize getting something underfoot. Throw down a few wrong-size Persian rugs in one spot and you may decide you love the look so much that you'll make it permanent.
Julie Ranee Photography 10. Bulletin boards that need lots of tacks. Hanging a bulletin board for schedules, tickets, invites, photos, recipes you want to try, postcards you get in the mail — well wait, all that stuff is probably digital and compactly stored in your cellphone these days. Never mind, I don't care —the old-fashioned way is better. Whether it's by the back door, in the office or in a playroom, a bulletin board is such a great way to keep an ever-evolving record of your life and add personality and character to your home.
Tell us: What kinds of things make your home feel pleasingly lived-in? Please share your thoughts in the Comments.



Becky Harris, Houzz Contributor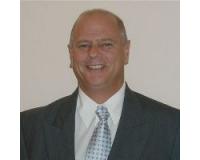 Author:
Victor DeFrisco
Phone:
561-951-3759
Dated:
May 25th 2017
Views:
144
About Victor: ...