A Bathroom Design Inspired By A Family Heirloom
This condo's eco-friendly bathroom remodel got it's inspiration from an antique Japanese vase.
After the existing bathroom of a condo in Seattle's Capitol Hill neighborhood had been badly water damaged, a complete gut of the bathroom resulted in a much needed remodel. While everything from the bathroom was removed and tossed out, the homeowners wanted to keep one thing; a family heirloom of an antique Japanese vase. A family heirloom turned into the inspiration for the homeowners new bathroom design, by incorporating the colors of the inherited Japanese vase into the bathroom's materials.
From extra storage to an eco-friendly space, see how Lindsey Runyon Design transformed this condo's bathroom into a sophisticated and elegant bathroom with clean lines and modern fixtures, all surrounding the essence of a family heirloom.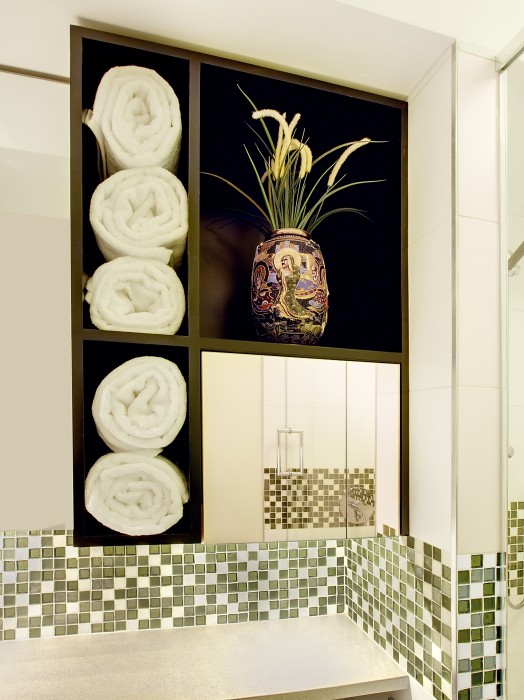 Due to the home being a one bedroom and one bathroom condo, the bathroom design required strategic storage. In 53 square feet, the upper mirrored medicine cabinets are recessed into the wall, open cubbies were created to store rolled towels and specifically one shelf was sized to perfectly fit the vase. Other storage features include toe kick drawers installed in the base cabinet, the garbage can is fit into the lower drawer next to the toilet, and a recessed niche in the shower meant for storing toiletries.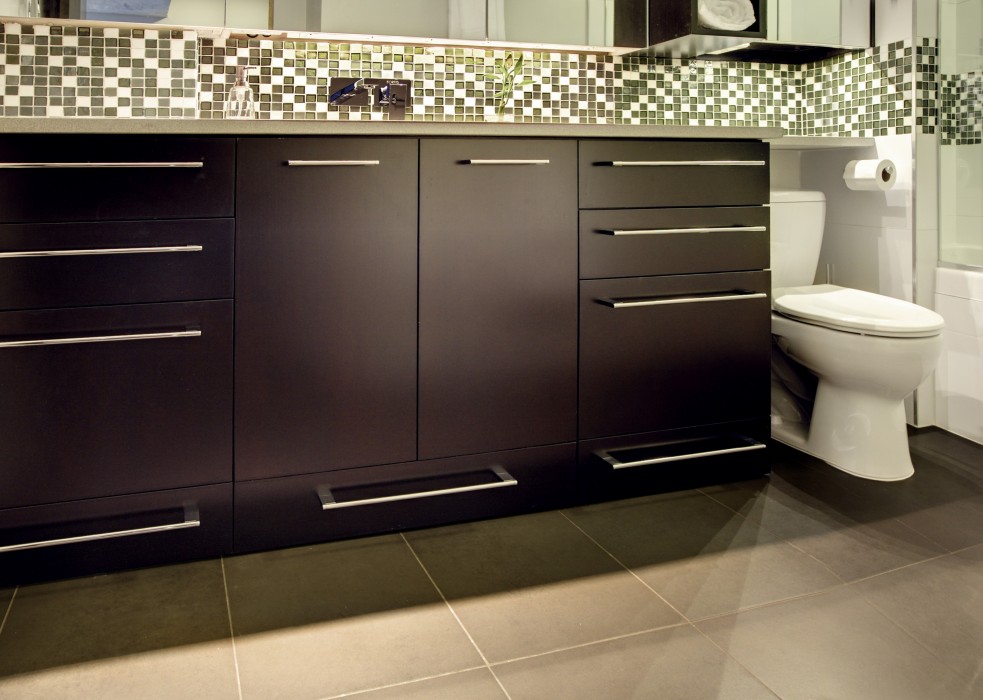 In order to give the perception of a larger space, glass shower doors were chose and the countertop continues over the back of the toilet, creating a long horizontal line.
One of the main goals of this new bathroom design was to make it eco-friendly. The mosaic backsplash and tile is made from recycled glass, and the countertop is also made of recycled glass, as well as low-carbon cement. The cabinets were custom-made locally and the low-flow toilet was reused from the bathroom prior to the remodel.
For easy cleaning, the faucet is mounted onto the wall and the sink is under mounted, making the countertop able to be wiped off quickly.
Thoughtful placement of shower controls were a part of this bathroom design. Shower controls were placed on the opposite side of the tub from the shower head so that the homeowners are able to reach into the tub while standing outside of the tub to turn on and adjust the temperature of the water before getting in.
On top of custom shower controls and cabinetry, this bathroom was also designed for moisture control so that the prior event of mold, mildew, and water damage was avoided. The shower tiling was installed up to the ceiling to prevent water splashing onto the walls and an automatic exhaust fan turns on when any moisture in the air is detected.